AMET's Turn-key solutions combine our advanced and proven welding process controls with our precision and reliable weld fixturing. We believe that the best turn-key systems have all the process equipment (power supplies, motion equipment, sensor, etc.) completely integrated through a single controller. Our XM and XPro control platforms are the foundation of these systems, providing intuitive operation and industry leading performance. AMET designs and builds these complete systems, ready to be programmed and perform automated welds, to meet our customer's specific requirements.
AMET has provided Turn-key systems for almost every welding process and have been successfully used to perform critical welds in virtually every industry for over 3 decades.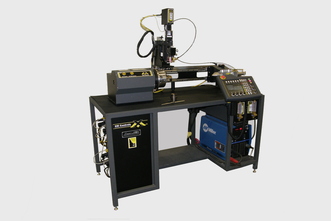 PRECISION BENCHTOP LATHE SYSTEMS
These Precision Lathe Welding Systems are designed and built for a high level of accuracy, versatility, and repeatability. They can be used for a wide range of applications with high or low production runs. With a small footprint, multiple lathes can be placed within a weld cell to optimize space and production.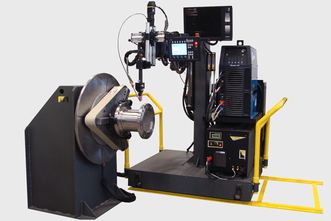 INTEGRATED PIPE SPOOL WELDING STATION
The GTAW Pipe Spool Welder is designed and built for joining pipes. With a clamping capacity range of 2 to 24 in (50 to 610 mm) OD, 1,000 lb (450 kg) capacity headstock, and 16 ft (4.9 m) of manual travel, throughput can be greatly increased with this automated welding system. Controls are easy to navigate, yet comprehensive. This system offers precision, strength, simplicity, and versatility, everything desired in a piping system.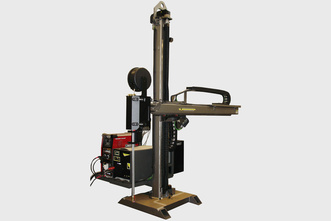 INTEGRATED PRECISION BORE CLADDER
Our TIG cladding systems feature a precision manipulator with servo driven motion on both axes. Most conventional cladding systems feature a basic manipulator with precision slides on the end of the boom to perform cladding operations. Also, with the addition of an equipment platform attached to the column of the manipulator, this system offers a more compact and capable system than conventional bore cladding systems.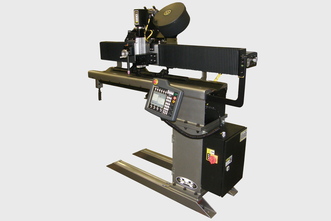 PRECISION BENCHTOP LINEAR SEAM WELDER
AMET Inc's Precision Bench Linear Seam Welders are designed to perform an external linear weld on cylindrical parts. This seam welder features precision carriage motion for consistent welds on parts up to 35 in (900 mm) in length.
Please call, write, or email our headquarters in Rexburg, Idaho for more information on how we can better serve you.
355 Dividend Dr
Rexburg, ID 83440