AMET's Seam Welding Machines are designed as a complete solution for performing linear welds. Each is equipped with our world-class controls and servo motor driven motion axes for precise control and consistent performance. Ball screw or rack and pinion drive travel carriages (depending on seamer length) coupled with precision bearings and rails provide smooth carriage motion resulting in consistent welds with an even bead. The travel carriage beam is machined and stress relieved to extends service life and provide consistent and repeatable motion.
AMET® seam welding machines are designed to provide ease of use, quality, robustness, high-precision, and repeatability. The main structure and base are constructed of heavy-wall structural steel to maintain rigidity and extend service life. A Durable Powder Coated finish provides a durable finish that is better suited for industrial environments and is more resistant to chipping, scratching, and normal wear.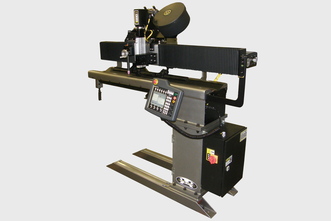 PRECISION BENCHTOP LINEAR SEAM WELDER
AMET Inc's Precision Bench Linear Seam Welding Machines are designed to perform an external linear weld on cylindrical parts. This seam welding machine features precision carriage motion for consistent welds on parts up to 35 in (900 mm) in length.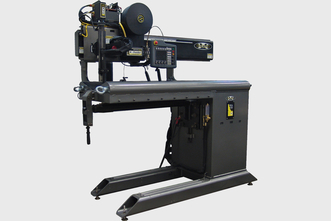 The ASW is produced in a wide range of weld lengths in order to meet most linear seam welding application requirements. AMET® will also consider special requests for seam welders and features.
Many weld processes, such as GTAW, PAW, GMAW, FCAW, and SAW can be used on standard seam welding systems.
Please call, write, or email our headquarters in Rexburg, Idaho for more information on how we can better serve you.
355 Dividend Dr
Rexburg, ID 83440