INTEGRATED PIPE SPOOL WELDING STATION
When precision and simplicity matters most
The GTAW Pipe Spool Welder is specifically designed and built for joining pipes. With a clamping capacity range of 2 to 24 in (50 to 610 mm), 1,000 lb (450 kg) capacity headstock, and 16 ft (4.9 m) of manual travel, throughput can be greatly increased with this automated welding system. Controls are easy to navigate, yet comprehensive. This system offers precision, strength, simplicity, and versatility, everything desired in a piping system.
The pipe is held in place by a large headstock with the far end resting on an idler support. Accommodating many pipe lengths is achieved with a manual travel cart that moves along the pipe's length.
System training is quick and simple due to an advanced controls system that commands all automated tasks from one pendant.
30+ Years of welding Automation Excellence
The Pipe Spool Welder system has the following capabilities:
Precision Headstock Rotation: 1,000 lb (450 kg) weight capacity.
Manually adjustable gripper capable of clamping pipes within the following ranges:

2 to 24 in (50 to 610 mm) OD
6 to 30 in (152 to 762 mm) ID

Free-standing Pipe Support Idler: Weight capacity of 4,000 lb (1800 kg).
Manual Torch Lead/Lag: Adjustable up to +/- 20 degrees.
Manual Torch Tilt: Adjustable up to +/- 45 degrees.
Manual Torch Over Center: Adjustable with 5.5 in (140 mm) total stroke.
Programmable AVC (Arc Voltage Control): Vertical axis with 7 in (178 mm) of total stroke.

Arc Voltage Range: 5 to 40 Volts
Arc Start/Stop Delays: 0 to 99 seconds
Programmable Mechanical Oscillator/ Cross Seam Axis: 5 in (127 mm) of total stroke.

Manual Travel Cart: 20 ft (6096 mm) of rails – 16 ft (4876 mm) of travel with a manual brake to lock the travel cart in place.
Hotwire Power Supply: 200 amps up to 20 volts (can vary with power supply)
Wire Feeder: 1 to 500 in/min (25 to 12700 mm/min) programmable wire feed speed.
Motorized Fixed Boom Manipulator:

14 in (355 mm) of motorized vertical adjustment
0 in (0 mm) of horizontal adjustment
This system offers a compact yet powerful pipe welding system. It is purpose-built to increase productivity with an easy-to-use, yet powerful interface. Our precision motion and powerful controls offer the following benefits:
AVC (Z-Axis): The AVC provides constant arc standoff and automatic height adjustments for multi-pass welds. The AVC also features touch retract, home capability, and after-weld retract to facilitate part loading and unloading.
Mechanical Oscillation (X-Axis): A precision slide provides programmable oscillation for sidewall tie-in on larger joints as well as cross-seam adjustment. This helps eliminate the need to reposition the entire travel cart to account for minor variations in the weld joint.
Headstock rotation: Integrated into the welding controls to provide precise velocity and positioning control for single or multi-pass welds.
The combination of the 1,000 lb (450 kg) capacity headstock, 16 ft (4876 mm) of manual travel, and large clamping capacity offers the capability of welding a large range of pipes without additional equipment.
Hotwire Feeder and Power Supply: The hotwire feeder significantly increases deposition rates over a coldwire feeder, which increases productivity and efficiency. Our precision hotwire AC power supply provides a more precise and consistent sinewave, while also reducing arc deflection that is common on DC power supplies.
SX Controller
The SX Controller will integrate into all of the major programmable components of this system. The following axes of motion and components will be integrated into the system:
Mechanical oscillation: A servo motor driven slide provides oscillating motion. The oscillation stroke and dwell times (right and left) are programmable through the SX controller
Wire feeder: AMET's precision hotwire power supply with built-in wire feed module offers control over wire feed speed, wire retract, and current and voltage for hotwire feeding.
Headstock rotation: The SX and Rotary module will integrate with the servo motor driven headstock to provide programmable motion with override capabilities. The rotation can be programmed by degrees, RPM, or time. Continuous and jogging rotation are also available through the control panel on the SX.
AVC: The SX and AVC module combine with the servo motor driven slide for automated control of the arc voltage. The arc standoff is automatically monitored and adjusted throughout the weld to ensure a constant and consistent voltage is maintained. Touch retract, home capability, and after-weld retract also controllable.
Manipulator
Vertical adjustment: Fixed speed – activated by standalone pendant, not integrated into system.
Horizontal adjustment: N/A – fixed boom manipulator offers no adjustment.
"AMET has been a great partner because they are appropriately positioned to act when we need a new solution engineered or need to service an existing solution. In the end the price of a solution is negligible if it works properly, and the vendor can keep it working through their service efforts. AMET knows these things and services their customers accordingly."
- Matrix Drilling Products
"For over 15 years now I have had the privilege of working with AMET. I have personally seen how AMET Inc. industry knowledge and engineering expertise has enabled my business to increase weld quality and production and allow our clients to improve the strength and durability of their products."
- G. Wright's Welding Ltd.
"AMET's team is exceptional to work with.  They look at the provided solution as a whole – from operator interfaces to engineering requirements, they seek to understand the customer's needs throughout the project.  This results in a welding system that is robust, embraced by the workforce, and meets the rigorous requirements of Blue Origin's vehicles and engines. We're excited to work with AMET on our vision of millions of people living and working in space."
- Blue Origin
1 The SX Controller is the center of this turnkey Automated Spool Welding Systems. The SX uses digital controls for integration with the welding power supply, hotwire feeder, AVC, and oscillator. The user interface offers an intuitive and logical layout to quickly and easily create, edit, and store weld programs.
2 The Roll Out system features several manual torch adjustments, which creates a versatile system. The torch has +/- 20 degrees of lead and lag (Y-Axis) adjustment, +/- 45 degrees of tilting (X-Axis) capability, and 5.5 in (140 mm) over-center adjustment to facilitate a large range of part diameters and joint configurations.
3 Two (2) precision ball screw slides driven by a servo motor with encoder feedback are included for programmable motion of the torch in the X-axis and Z-axis. The X-axis includes mechanical oscillation capability and the Z-axis is equipped with AVC. Both axes are programmable and include velocity and position control to ensure consistent and repeatable performance.
4 This Automated Spool Welding Systems includes a 4-roll wire drive assembly that is driven by a servo motor with encoder feedback provides precision wire delivery. Wire feed speed, start delay, and wire retract are each programmable with the SX Controller. The wire feeder offers high-precision wire delivery with an accuracy of +/- 1% of the programmed speed. The wire feeder also includes a manual hotwire nozzle positioner that is mounted to the torch.
5 The manipulator of this Automated Spool Welding Systems features robust construction with thick-wall steel tubing for a long service life. The manipulator has a fixed-boom with motorized height adjustment. The height adjustment is used for positioning of the weld head only, so it will not be integrated into the SX Controller. However, precision rails and bearings are included to ensure longevity and smooth operation.
6 A GTAW sensor box is included to provide integration of the gas and water sensors. A digital solenoid and manual flow meter are incorporated for programmable on/off control of the shield gas. A gas sensor is included to detect the presence of gas and a water sensor for the presence of water flow from the circulator. If no gas or water is sensed, the SX will receive an error. These sensors help protect vital components and maintain weld integrity. Additional gas control can be added for backing or trailing gases.
7 An electrical control cabinet is included to provide a central location for all control modules and electrical components. Included in this package is a single point power distribution that provides fuse-protected power to the entire system from a single primary power circuit (provided by client).
8 The manual travel cart provides secure housing for the welding equipment (power supply, hotwire power supply, and water circulator), manipulator, and electrical control components. The travel cart can easily be pushed or pulled to the desired position along the length of the 20 ft (6096 mm) rails and then locked into place with a manual brake.
9 The AMET Hotwire power supply provides a true high precision RMS output of up to 200 amps at up to 20 volt AC. This reduces arc deflection (arc-blow) commonly found in DC hot wire units.
10 One (1) pipe support stand is included with the system to provide part support opposite the headstock. The idler wheels are capable of safely supporting pipes from 2 to 48 in (50.8 to 1219 mm) OD. The stand height is manually adjustable from 24" – 36" (609 to 914 mm).
11 Precision and programmable rotation is performed by the headstock. A servo motor with encoder feedback drives the headstock for precise control of the pipe rotation. The headstock includes a three-jaw gripper for holding/clamping parts.
TRACK EXTENSIONS
Additional lengths of track for the manual travel cart are available. Lengths are available from AMET® in 5 ft (1524 mm) sections, or the prints can be sent to the customer to build additional track as needed.


ARC VIEWING CAMERA
Arc Viewing Cameras can be added to a GTAW/PAW system giving the operator a view of the weld arc from a remote location. This keeps the operator in a safe location and reduces operator stress and fatigue. Additionally, the image that is shown on the monitor is magnified and shows greater detail than what could be observed without the camera. Multiple cameras may be integrated for projects where a view of the lead and trail side of the weld zone is required. Please see the Arc Viewing Camera page for additional information.

PIPE ROLLER SUPPORTS
Additional weight capacity can be added to these systems by adding pipe roller supports. Each idler has a capacity of 4,000 lb (1800 kg) to help prevent overloading the headstock with large parts. Additional idlers are also beneficial for supporting long parts since some parts tend to sag when only supported on the ends.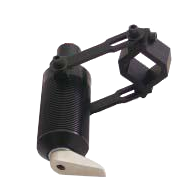 MAGNETIC OSCILLATION
Magnetic probe is used to deflect the arc back and forth in a stirring motion for excellent sidewall tie in. The arc can also be deflected and maintained in a set position. This can be beneficial for fillet or otherwise hard-to-reach joints. Dwell time, oscillation frequency, and width are all programmable from AMET® controls. Compatible with both magnetic and non-magnetic materials.
PIPE FITTINGS
AMET's automated welding systems offer several options for welding pipe fittings such as tees, elbows, and flanges with butt or socket joint configurations.
PIPE WELDING
Stainless steel, steel, and aluminum pipes can be welded using AMET's systems and controls. We offer systems with manual and programmable weld head positioning along the length of the pipe.
Useful Links and Information:
Please call, write, or email our headquarters in Rexburg, Idaho for more information on how we can better serve you.
355 Dividend Dr
Rexburg, ID 83440