AMET's "single controller" design provides the customer with process repeatability, minimizes operator setup time, reduces operator control errors, simplifies programming, and provides reliable process verification with its built- in data acquisition. Our system control packages are the culmination of over 30 years of design, production, and support experience. The philosophy is to essentially dedicate a processor to each component of the welding system. The multiple processors then communicate over a network with the single controller to control the process accurately and effectively.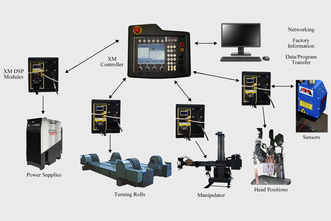 XM® WELD PROCESS CONTROLLER
AMET's advanced control systems put weld automation in a compact and intuitive package. XM® controls allow the user to program multiple parameters of the weld process including (but not limited to) motion and power supply function, and automate up to 20 pre-weld and 20 post-weld tasks, such as part loading, gas flow enable/disable, and touch retract torch positioning.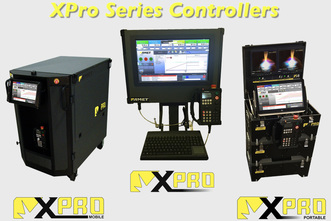 XPRO SERIES WELD PROCESS CONTROLLERS
The most powerful and capable weld controller in the AMET® lineup. The proven XM® architecture is expanded and given a large touchscreen interface along with a keyboard and touchpad to navigate and program the XPro more quickly and easily. The XPro also includes a handheld pendant with joysticks and buttons for tactile feedback to make adjustments during welding.
Please call, write, or email our headquarters in Rexburg, Idaho for more information on how we can better serve you.
355 Dividend Dr
Rexburg, ID 83440