AMET® Weld Lathes are constructed of high-precision quality components to provide the rigidity and precision demanded by critical welding applications. Precision bearings and rails provide smooth motion and accurate positioning of the torch tower and tailstock along the length of the lathe. High precision servo driven rotation provides the required motion for a wide range of components from aerospace engine parts to end cap welding on metal hoses. Coupled with AMET's advanced weld controls, the lathes are highly customizable and versatile. They are configurable for circumferential welding, OD cladding, and even longitudinal welding.
AMET Weld Lathes are produced in a full range of weld lengths and three different models, Precision Benchtop, Heavy-Duty Bench, and Industrial, to meet each of our customer's specific application requirements.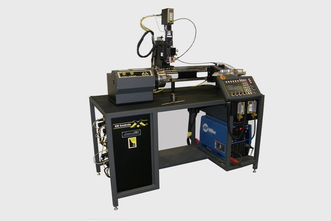 PRECISION BENCHTOP LATHE SYSTEMS
These Precision Lathe Welding Systems are designed and built for a high level of accuracy, versatility, and repeatability. They can be used for a wide range of applications with high or low production runs. With a small footprint, multiple lathes can be placed within a weld cell to optimize space and production.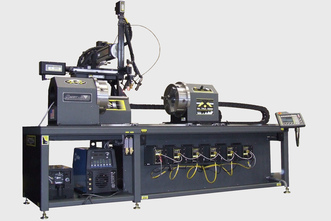 HEAVY-DUTY BENCH LATHE SYSTEMS
Like the Precision Benchtop Lathes, the Heavy-Duty Bench Lathes are designed and built for a high level of accuracy, versatility, and repeatability. These lathes simply have increased weight and part length capacities without sacrificing any of the precision motion.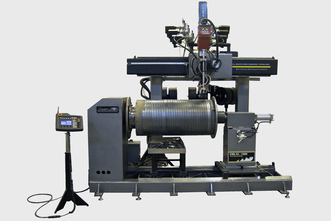 INDUSTRIAL WELD LATHE SYSTEMS
Industrial weld lathe systems are used to produce high quality welds with minimum distortion on circumferential (girth) weld joints for a wide variety of parts and part shapes. Single and multi-pass welding can be performed using GTAW, PAW, VPGTAW, VPPAW, GMAW, FCAW, or SAW welding. The weld lathe can be optionally fitted with two or more weld heads so multiple welds can be performed simultaneously.
Please call, write, or email our headquarters in Rexburg, Idaho for more information on how we can better serve you.
355 Dividend Dr
Rexburg, ID 83440